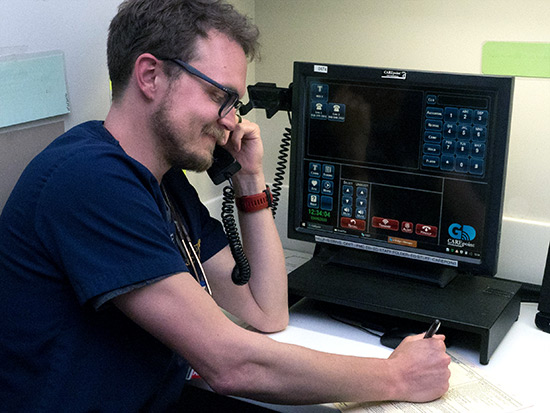 When you arrive at the emergency Department, you will be greeted by a medical team in triage who will assess the severity of your medical condition.
The Emergency Department Team
Your physician relies on a team of individuals to make your visit thorough, efficient, and as comfortable as possible.
Physicians: You will be seen by a provider that specializes in Emergency Medicine.
Nursing Staff: Nurses that specialize in the care for acute health issues and trauma.
Paramedics and EMT's: Staff members specially trained to perform EKGs and IVs.
Scribe: Staff that documents the chart for your visit, detailing the treatment performed by the physician.
Registration Clerk: Staff member that collects your insurance information and connects it to the medical record.
Other: Technologists trained for specific tasks; phlebotomist, x-ray technologist, respiratory therapists, social workers and physical therapists.
Visit Summary
The most urgent patients will be seen first based on acuity and resource needs. Most emergency department visits follow this sequence:
Triage
Bed Placement
Nursing Evaluation
Physician Evaluation
Testing
Diagnosis and Treatment
Discharge Home (if stable) or Admission to Hospital (for further care)
Insurance: Flagstaff Emergency Physicians is an independent group. We see patients regardless of their ability to pay. While we work closely with Northern Arizona Healthcare/Flagstaff Medical Center and other independent physicians, our insurance contracts may not be the same. Your insurance might cover one aspect of care such as hospital services but not another such as emergency physicians or radiology services.
If you have questions regarding your coverage, check with your insurance provider.